It's a Lion Roars kinda Black Friday!
It's been a massive 18 months and we're all in need of a spoil and pamper... With this in mind, Lion Roars has decided it's time we did something epic for YOU this Black Friday. We're going to be doing incredible savings (we mean HUUUUGE) and one lucky individual is going to walk away with a free night - at ANY of our 4 or 5 star properties. Your choice where you want to go! If you'd like to check out our beautiful range of properties across the Eastern and Western Cape of South Africa, you can do so here.
HOW IT WORKS
Our phone lines open at 9AM SHARP. Call 021-424-1530 📞📞📞 Don't call earlier! 😋 
Quote 𝐁𝐋𝐀𝐂𝐊𝐅𝐑𝐈𝐃𝐀𝐘𝟏𝟎𝟎% 🚀🚀🚀 
The FIRST caller will get 100% off their stay. Ladies and gents, in simple language, that means YOU'LL STAY FOR FREE! 
 If someone beats you to it, quote 𝐁𝐋𝐀𝐂𝐊𝐅𝐑𝐈𝐃𝐀𝐘𝟕𝟓% for 75% off your stay... Only 2 available, be quick! 
If these 2 have been redeemed, quote 𝐁𝐋𝐀𝐂𝐊𝐅𝐑𝐈𝐃𝐀𝐘𝟔𝟎% 
If these have been snapped up, we have 5 final 𝐁𝐋𝐀𝐂𝐊𝐅𝐑𝐈𝐃𝐀𝐘𝟓𝟎%'s to give away.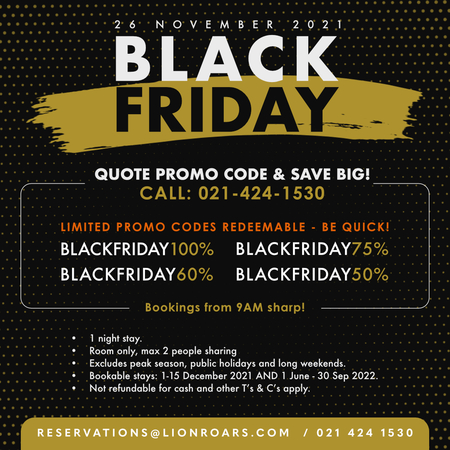 Did you miss out on the above?
Don't be sad! Once the above have been snapped up we're giving away a huge saving in the form of a #BlackFriday voucher. You will pay only R500 to stay at a Lion Roars town property; only R1300 to stay at the incredible 4 star Big 5 Hlosi Game Lodge or only R1500 to stay at the 5 star Bukela Game Lodge (both on Amakhala Game Reserve). This valid for bookings all Black Friday, all Black Friday weekend and all day on Cyber Monday! Book by emailing reservations@lionroars.com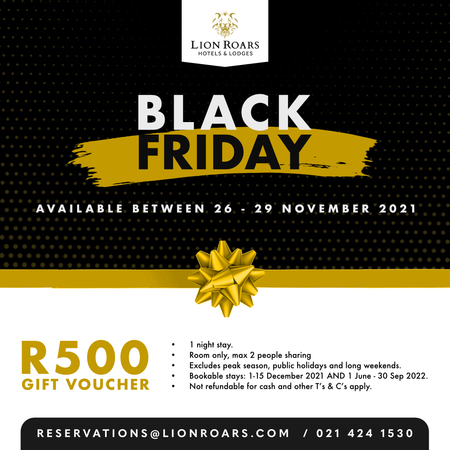 OR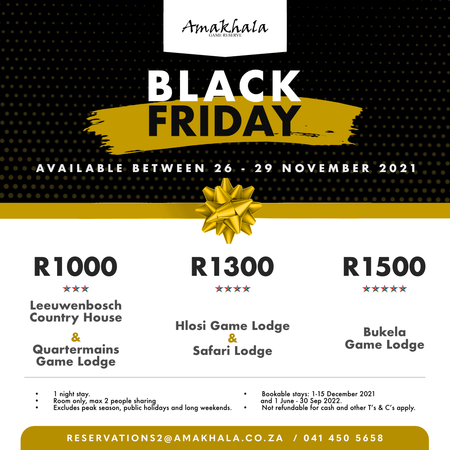 *Note this rate is a room only rate for a max of 2 people sharing and is valid for stays during 1-15 December 2021 or 1 June - 30 September 2022. Meals and any extras, such as game drives and beverages etc. will be for your own account.
About our properties
The Lion Roars Group is proud to offer a distinctive portfolio of luxury boutique accommodation in beach, town, country and game reserve destinations, located in remarkable settings in Southern Africa. 
 Cape Town Accommodation: 
Our accommodation in Cape Town includes the gracious Old Bank Hotel in the City Centre, Kloof Street Hotel in the inner city on vibrant Kloof Street and the superbly-located The Three Boutique Hotel in Gardens. All of our Cape Town properties are within ten minutes' drive of all of the city's main attractions, and within walking distance of a great selection of restaurants, coffee shops and bars. 
 Winelands Accommodation: Franschhoek 
Our Cape Winelands experience offers 4-star boutique accommodation in the heart of the Winelands: Franschhoek. Franschhoek Boutique Hotel, situated within the historic town centre, offers Wine Route accommodation with sweeping valley views and close proximity to all the best restaurants, galleries and cafes this vibrant town has to offer. Franschhoek Boutique Hotel is within an hour's drive of Cape Town. 
 Garden Route Accommodation: Plettenberg Bay 
Enjoy your beach holiday accommodation in Plettenberg Bay, the true gem and beating heart of the Garden Route. The Robberg Beach Lodge in Plett offers a variety of beach accommodation right at the loved, blue-flag Robberg 5 beach. With sweeping ocean views from a number of rooms, and family accommodation, it is a great base to explore the beauty of the magnificent Garden Route 
 Port Elizabeth Accommodation 
Our Port Elizabeth property, Singa Lodge in the seaside suburb of Summerstrand, offers leisure and business accommodation with bed and breakfast and conference facilities set in leafy gardens, with access to all of the friendly city's beaches, restaurants, bistros and businesses. 
 Greater Addo And Eastern Cape Safari Accommodation 
Our Safari Collection in the award-winning malaria free Eastern Cape Amakhala Game Reserve offers all-inclusive accommodation and wedding facilities including honeymoon suites in a wide range of intimate, boutique safari lodges and guest suites. The Game Reserve and safari trips offer exciting wildlife viewing and are only a 45 minute drive from Port Elizabeth. On this beautiful Big 5 Reserve we have two of our flagship properties. Our 5 star Bukela Game Lodge which offers a romantic and private escape, with a combination of luxe Safari Tents and Suites nestled in a wooded valley, and the family friendly 4 star Hlosi Game Lodge, with its remarkable views over a river plain.
T's & C's Apply:
1 night only
Not combinable with any other specials
Excludes public holidays and long weekends. 
Rate is a room only rate and calculated off our rack rate
Excludes meals, beverages, conservation levies and anything not specified in the offer
Max 2 people sharing per offer
Valid for stay dates: 1-15 December 2021 and 1 June - 30 September 2022.
Not refundable for cash and payment must be made upfront in full