Let your travel planning begin with our new Voucher offer
Want to save some moolah? Yes please! Enjoy an escape to a Lion Roars property by purchasing a voucher, and enjoy more bang for your buck. 
Our vouchers are available to purchase until 31 May 2021, and may be redeemed for travel until September 2021. 
The best part is they're uber flexible!
Contact our res team to help plan your next holiday and they'll provide you with a quote. This will vary depending on time of year, how many people are on the booking, if you include dinners etc. Once you've got your reservation quote, purchase a voucher (or vouchers!) and put it towards it! 
All stays are inclusive of breakfast. We can 'vouch' for this - it's delicious! 
Looking for a great gift idea? 
Anniversary, birthday, wedding or Christmas gift, Mother or Father's Day - we've got you covered. 
Our reservations team will assist you in surprising your special person with a voucher from us, find out more by emailing us on reservations@lionroars.com  or giving us a call on +27 (0) 21 424 1530.
Whether you feel like escaping to the beach or the bush, the Mother City or the Friendly City, the Garden Route or the Big 5, we have a property to make your travel dreams come true.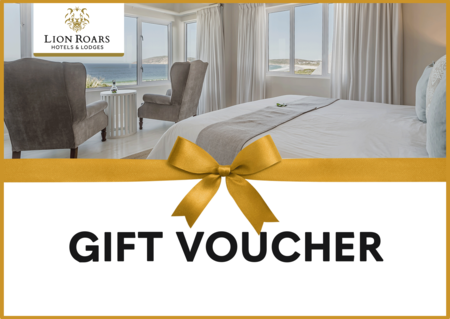 Vouchers  
| | | | | |
| --- | --- | --- | --- | --- |
| Lodge  | Highlights | Voucher Value | Voucher Cost | Child Friendly?  |
| Bukela Game Lodge - Amakhala Game Reserve | Big 5, meals and game drives included, safari luxury, romantic | R12,380 | R7,400 | No |
| Hlosi Game Lodge - Amakhala Game Reserve | Big 5, meals and game drives included, safari luxury, family friendly | R10,870 | R5,900 | Yes. |
| The Robberg Beach Lodge - Plett | On the beach, two pools, two bars, spacious rooms, generous breakfasts, family friendly | R2,140 | R1,100 | Yes |
| Singa Lodge - Port Elizabeth | Near PE's beachfront and Boardwalk, walking distance to the PE promenade and pier, tranquil gardens and pool | R2,410 | R1,205 | Yes |
| Franschhoek Boutique Hotel  | Central location in Franschhoek, in walking distance to the best restaurants, boutique accommodation with stylish, modern rooms | R3,500 | R1,750 | Yes |
| The Three Boutique Hotel - Cape Town | Iconic Table Mountain views, central location to all of Cape Town's main attractions, rooftop deck, freshly ground coffee and gin tasting | R3,060 | R1,530 | Yes |
| Kloof Street Hotel   | Situated on popular Kloof Street, restaurant and a coffee shop, rooftop deck with bar, modern rooms  | R2,230 | R1,200 | Yes |
| Old Bank Hotel  | Central location, built in 1902, private dining area and restaurant, wine cellar and bar, spacious bedrooms with luxurious finishings | R2,630 | R1,300 | Yes |
Booking
How does it work? 
Decide which voucher you'd like to purchase;
Once you know, make contact with our reservations team on reservations@lionroars.com or on +27 (0) 21 424 1530
Our team will send you a secure payment link and a reference number to complete purchase of your voucher;
Make sure it's purchased before 31 May 2021. It will be valid for travel until 30 September 2021;
Let us know if it's a gift for a loved one, and we'll make the voucher out to them.  

Terms & Conditions:
Only valid during date periods mentioned and only bookable directly through our reservations office. 
May not be used in conjunction with any other special offer.
Max 2 adults per room per voucher. Chat to our res team to find out if your children may be accommodated.
Excludes bookings over the following dates: 
- 02 to 05 April 2021
- 25 July 2021 to 05 August 2021 
Hlosi Game Lodge and Bukela Game Lodge: Stays include, accommodation, all meals and game drives. 
Bookings need to be fully prepaid and made in advance.
Excludes: all beverages, laundry, transfers, gratuities and any other items of a personal nature.
Subject to availability.
Standard policies apply.