Climate change: two small words that hold an unfathomable weight. Climate change is proving to be one of the greatest challenges facing individuals and corporations in modern times. How can we be more sustainable? What is our responsibility to the planet? If we don't change what we are doing day in and day out, what awaits future generations? As a business that prides itself on innovation, and is passionate about the planet and its people, we've been asking ourselves this a lot lately.  
Commodity fetishism and heightened consumerism has led to a drastic increase in carbon emissions and waste production, resulting in a grossly inflated carbon footprint. If you are not technically sure what carbon footprint is (you're not alone!), it's the total amount of greenhouse gasses produced to directly and indirectly support human activities, typically expressed in equivalent tons of carbon dioxide: CO2. As individuals on the planet in today's day and age, we are all responsible for reducing our personal carbon footprint and moving towards a more sustainable lifestyle. As businesses, it can be argued that the sense of responsibility is even greater.
Lion Roars Hotels and Lodges acknowledges the corporate social responsibility it holds towards minimising our businesses carbon footprint and waste production. To better combat our carbon emissions and to ensure a better future for the planet that we love, and for all who inhabit it, we have begun making changes, big and small, in our daily operations.
POWERED BY THE SUN
Currently, most of our properties make use of large diesel powered generators to combat the loadshedding that indefatigably plagues South Africa. Guests expect electricity on holiday (as do we!) and as such this has been a solution to keep guests happy. However, with the increase in loadshedding schedules over the past few months, we have been increasingly displeased with the high levels of diesel required to 'keep the lights on' at all of our properties. To our dismay, this has significantly increased the businesses carbon footprint, which goes against everything we stand for.
As such, a big change that we are in the process of implementing is installing solar panels at all Lion Roars properties. We pledge to roll this out over the next few years and have already made great strides with Franschhoek Boutique Hotel being the first to undergo the installation. This December, 70 - SEVENTY! - solar panels have been installed on the hotel's roof to ensure we can run the property with zero power from the grid. This is an amazing feat given the high power requirements of the hotel (keeping in mind all laundry is done onsite!). In doing so, Franschhoek Boutique Hotel will reduce its carbon emissions by 80%.
Ultimately, our guests having a 10/10 experience is the most important thing to us. With our new solar panel installation at Franschhoek Boutique hotel, and with our plans to install solar across our entire property portfolio, we trust guests will enjoy a stay completely uninterrupted by load-shedding.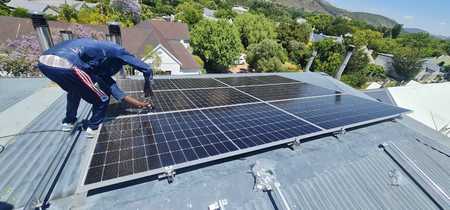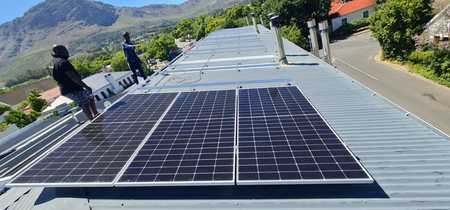 REDUCING SINGLE USE PLASTIC
One small change that is going to make a big difference is our shift away from single use plastic water bottles towards reusable glass water bottles. Before we dive into the details we'll hit you with stats… By reusing glass bottles across all of our properties, rather than opting for single use plastic bottles, we are reducing our carbon footprint for bottled water by up to 90%. 
To understand the impact of single use plastic, one must first gain an understanding of the carbon footprint of each link in the supply chain. When analysing and trying to understand the implications of this change, Lion Roars looked at O-I's life cycle modeling tool that measures the environmental impact of every stage of the product's manufacturing cycle. Glass' manufacturing life cycle yields carbon emissions that contribute far less to total carbon footprint when compared to plastic, which is significantly higher.
According to Verve, the majority of waste products are received from our suppliers as supply packaging. These items include pallets, divider boards and boxes. The said items can then be broken up into items that can be returned for credit. Items that can't be returned for credit are recycled. 
When considering waste streams that can result from the product, the plastic bottle cap is arguably the most unsustainable part of the end product. Plastic bottle caps are small and often disregarded only to find themselves in landfill and in the environment as litter. Verve's aluminum caps serve a much better and long-lasting purpose as they can either be recycled and reused with the glass bottles when returned to the supplier for refill; or they can be recycled on their own.
The new glass bottle itself is the greatest way of reducing carbon emissions when compared to its plastic counterpart. Verve's "Return, Recycle, Refill" model not only facilitates greater consumer access to the benefits of glass as a packaging, it also massively increases the lifespan of the packaging material. According to Verve, every 10% of recycled glass used in production results in an approximate 5% reduction in carbon emissions as well as reducing energy savings to 3%. 
Glass is an incredibly efficient resource and can be used in its original form more than other packaging materials, thus preventing excessive waste in landfills and a healthy decrease in energy use. With an entire part of the carbon footprint "cradle to grave" scenario, with regards to single use plastic bottles now significantly cut out, waste management is greatly reduced and the environmental benefits rise. 
LOOKING FORWARD
Lion Roars Hotels and Lodges is so excited to share the beginnings of this journey with you and look forward to sharing future steps we'll be taking to reduce our carbon emissions and ensure an improved environmentally friendly experience for all.
If you'd like to get in touch with other suggestions on how we can continue to grow, learn and improve on this journey, don't hesitate to reach out here.
If you'd like to check out all the Lion Roars properties, you can find them all here