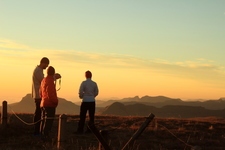 Our new partners over at Transfrontier Parks Destinations (TFPD) have had the lion's share of media coverage lately, and it certainly hasn't gone unnoticed here at Lion Roars. We've been busy getting our adrenalin fix over stories about hiking the untamed trails of the Makuya Reserve and the exciting Big-5 encounters that await you.
Blogger, author and adrenalin-seeker, Fiona Mcintosh, shares her experience of climbing to new heights in the Drakensberg, giving Witsieshoek Mountain Lodge the thumbs up for superbly situated accommodation for hikers.
Further north, Jacques Marais walks The Footsteps of the Great Farini, and ends up discovering the heart of the Kalahari at none other than the beautiful !Xaus Lodge. This article was featured in February's SA 4x4 Magazine, highlighting the beauty of the Kgalagadi that stretches as far as the eye can see. 
As your mind takes a journey to these wilder parts of southern Africa, let these blogs serve to be the inspiration for your next adventure.